68% of new mothers (30-40 years) of small children (0-5 years) admit that they felt, or still feel depressed and alienated. Those feelings are most vivid especially during the first months after giving birth. They are caused by, among others, lack of support, understanding, and kindness from family, judgment and rude comments from strangers in public spaces. Ignorance of women's mental state can lead to mental illnesses. 1 in 7 women experience postpartum depression when it's untreated, it can cause postpartum psychosis.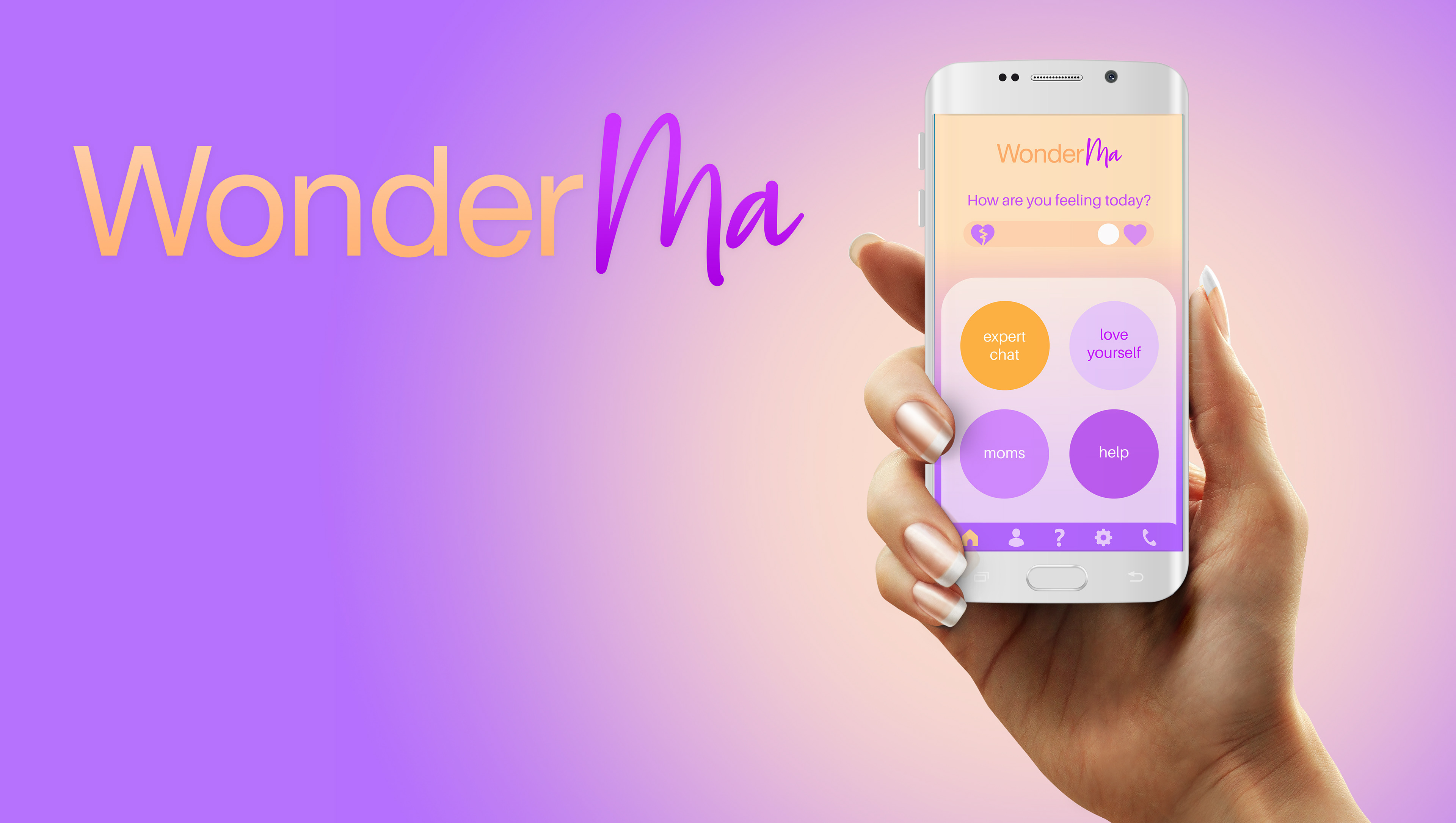 WonderMa is an application that helps mothers recognize early symptoms of possible mental illness, lets know where to seek help and provides support. The main features are:  
-> expert chat - you are able to chat with an expert who is chosen basing on  how you feel             
 -> love yourself section where you can read about coping strategies 
 -> moms - a social network where you will find mothers with a similar mood 
-> help section - you can: find professional help  in your city by indicating your location, screen yourself (feature based on national screening tools) or read about mental illnesses related to motherhood​​​​​​​
My role: The project was individual. I have done everything myself from research, ideation to final working prototype and usability testing.
The application was created based on my research as well as consultations with: Ms Lisiane Latouche, Director Social Work/Psychology at Tresillian; Dr Nicole Highet Executive Director And Founder at COPE; and Ms Chris Barnes Clinical Psychologist at Gidget Foundation Australia
The Telstra Purple's brief for the Graduation Studio at the Univesity of Sydney was formed as a simple statement " Think about a target group in a new physical environment" . At the beginning I did not where to start. To narrow the target group I conducted a small qualitative survey among 30 random people aged 25-40 years. The questions were:
1.    What was the most challenging in your life? Why?
2.    What causes most of your difficulties in the present? Why?
Unexpectedly, 70% respondents (most of them were women) underlined that most life-changing, stressful situation as they remembered was giving birth to a baby and then facing all issues regarding postpartum period and taking care of a small child​​​​​​​.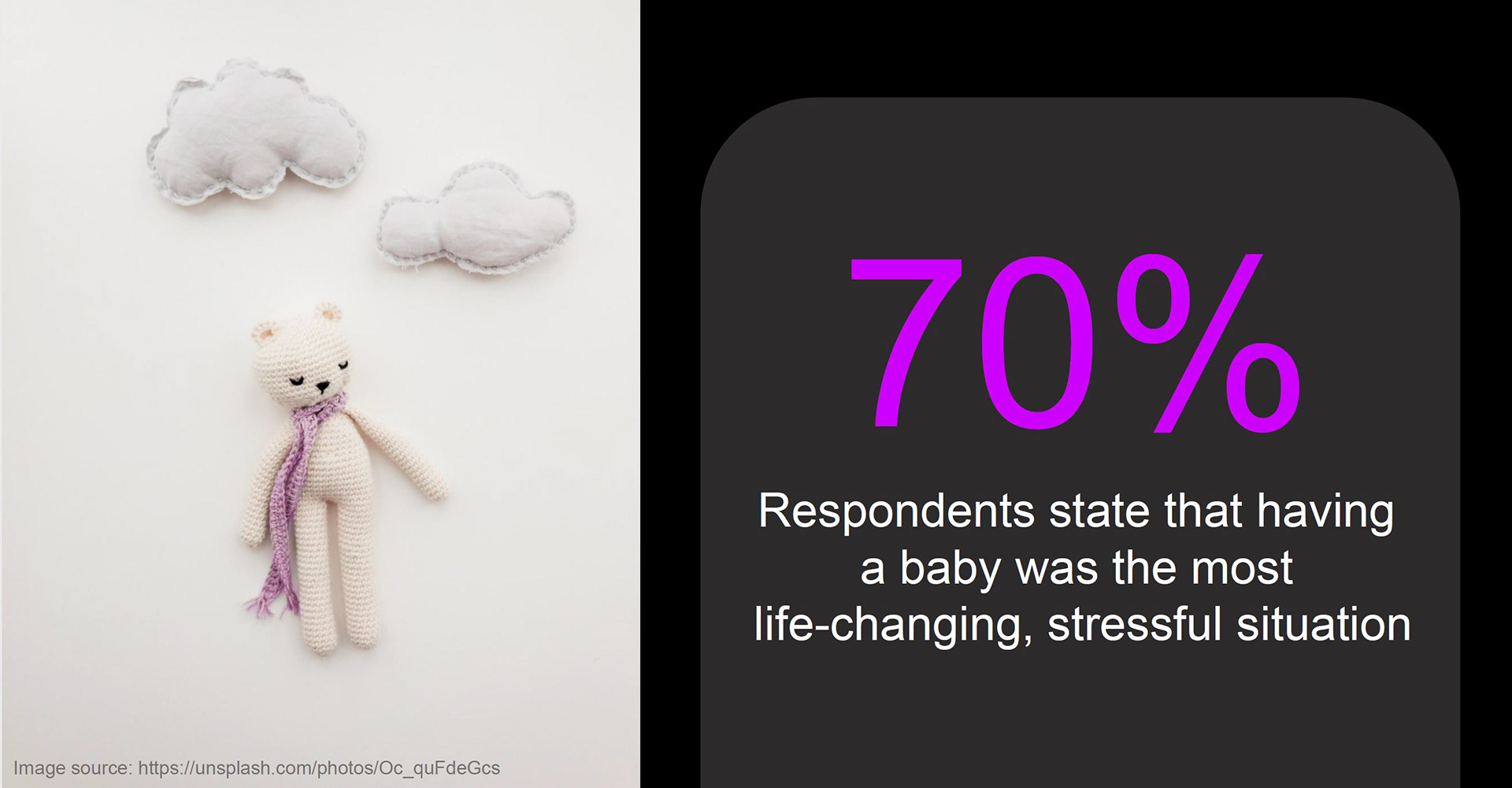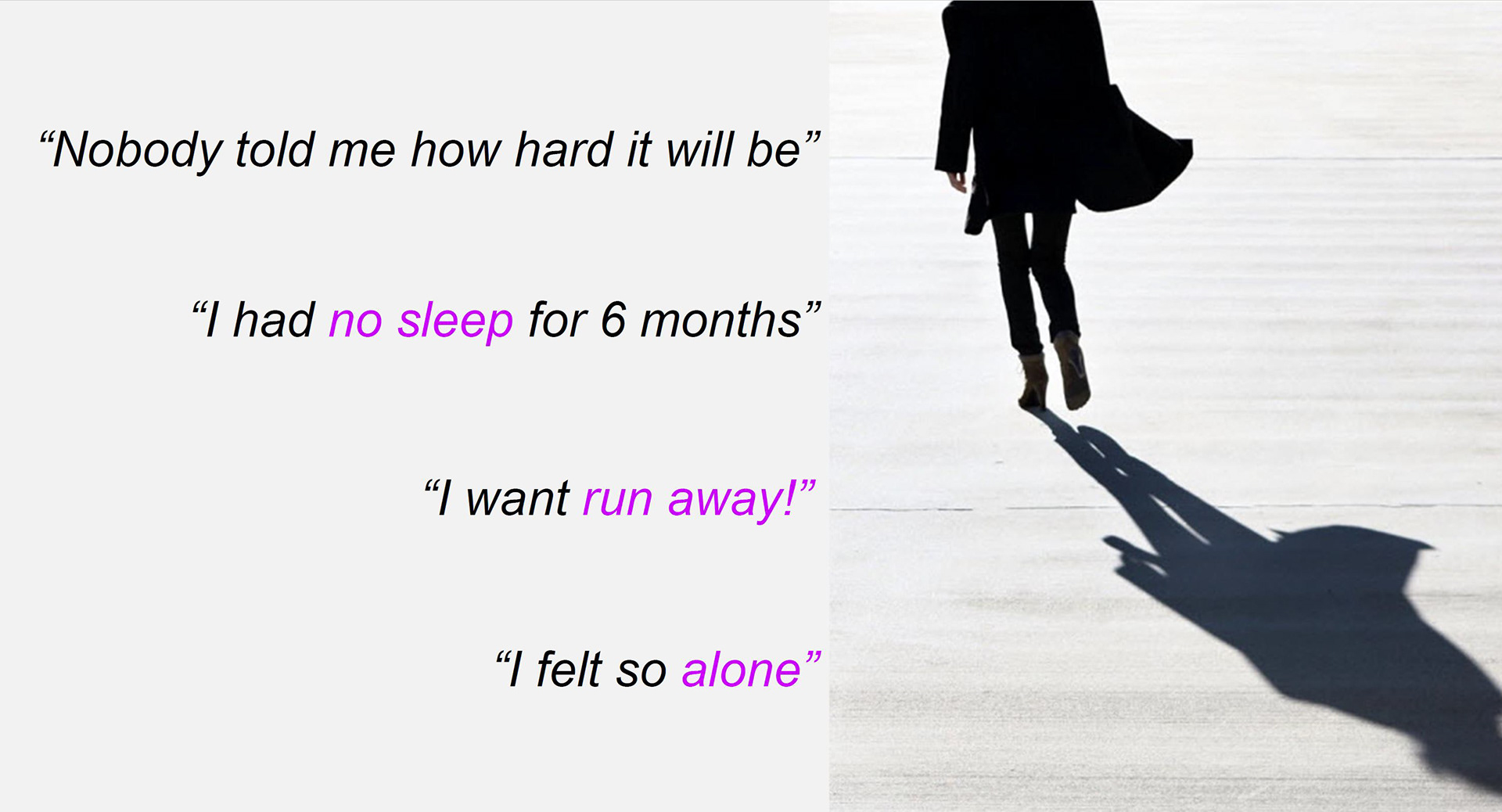 To further narrow the target group and identify their specified needs, goals and issues I conducted a second, more detailed survey.
 From then , I  focused, not on young women in general, but on mothers of little children (aged 0-5 years). One of the many things, apart from age and relationship status, I wanted to ask them were:
1)  Have you ever found yourself with your baby in a new place where you didn't feel comfortable?      -yes    or    -no  
2)  What were the place and situation? 
3)  What kind of challenges did you face in that place/situation?
4)  How did you overcome the obstacles in this particular situation?
5)  What would be helpful in this particular situation?
6)  Have you ever felt depressed or alienated as a new mother?      -yes     or      -no
7)    What was the reason and how long the feeling lasted?
18)    What would be helpful?
I collected 30 responses. It turned out that contrary to what I assumed most respondents were older. I was sure that most mothers of children 0-5 years will be 25-35 years whilst most participants were 30-40 years old. ​​​​​​​That is why I had to redefine my target group. The astonishing finding for me was that 68% of respondents admitted that they felt, or still feel depressed and alienated. I also identified that being a mother of small child is, in fact, like being in a new physical environment.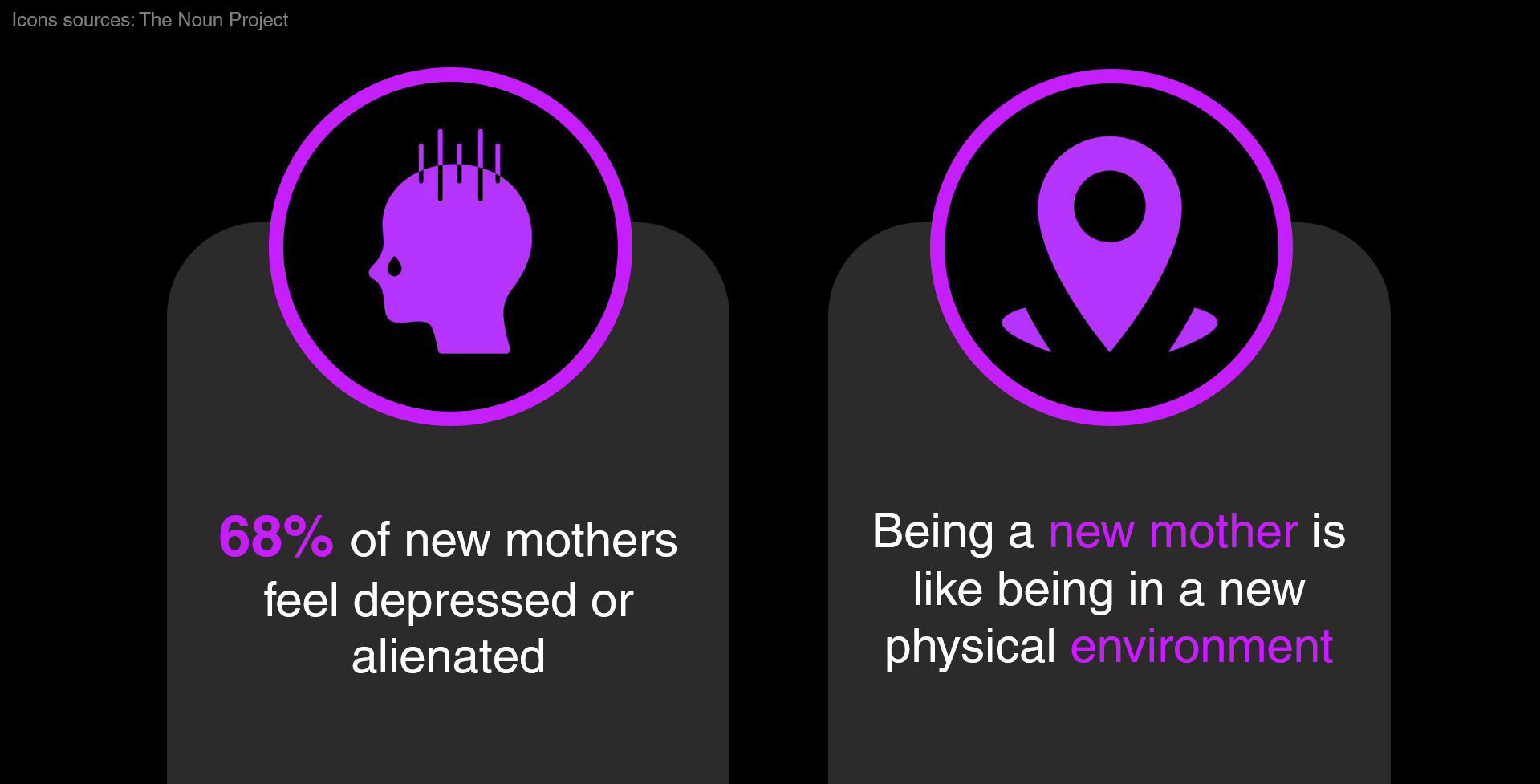 To know even more about the target group I conducted face to face interviews with three suitable mothers.
 I asked them questions similar to those from the detailed questionnaire. Additionally I learned about their coping strategies and about apps,
 they are already using - none of them used a mental health application. They heard about social apps for mothers but they do not use them mainly because of the fear of rejection or being judged. They mainly use applications which help with running errands or breastfeeding.
To go even deeper with my research I decided to reach professionals as well. I decided to write a short message with inquiry to around thirty meaningful organizations such as Early Childhood Health Centres, Hospitals, Non-profit organizations, Mental Health Centres, Faculty of Medicine and Health at the University of Sydney, etc. Surprisingly,  three of them responded - Tresillian, Cope and Gidget Foudation.
I truly appreciate time of people who provided me with a unique perspective that helped compliment my research. I learned a lot about mother's and father's mental health, mental illnesses and its symptoms, coping strategies, organizations who are able to help. From, my perspective it was probably the most important part of my research.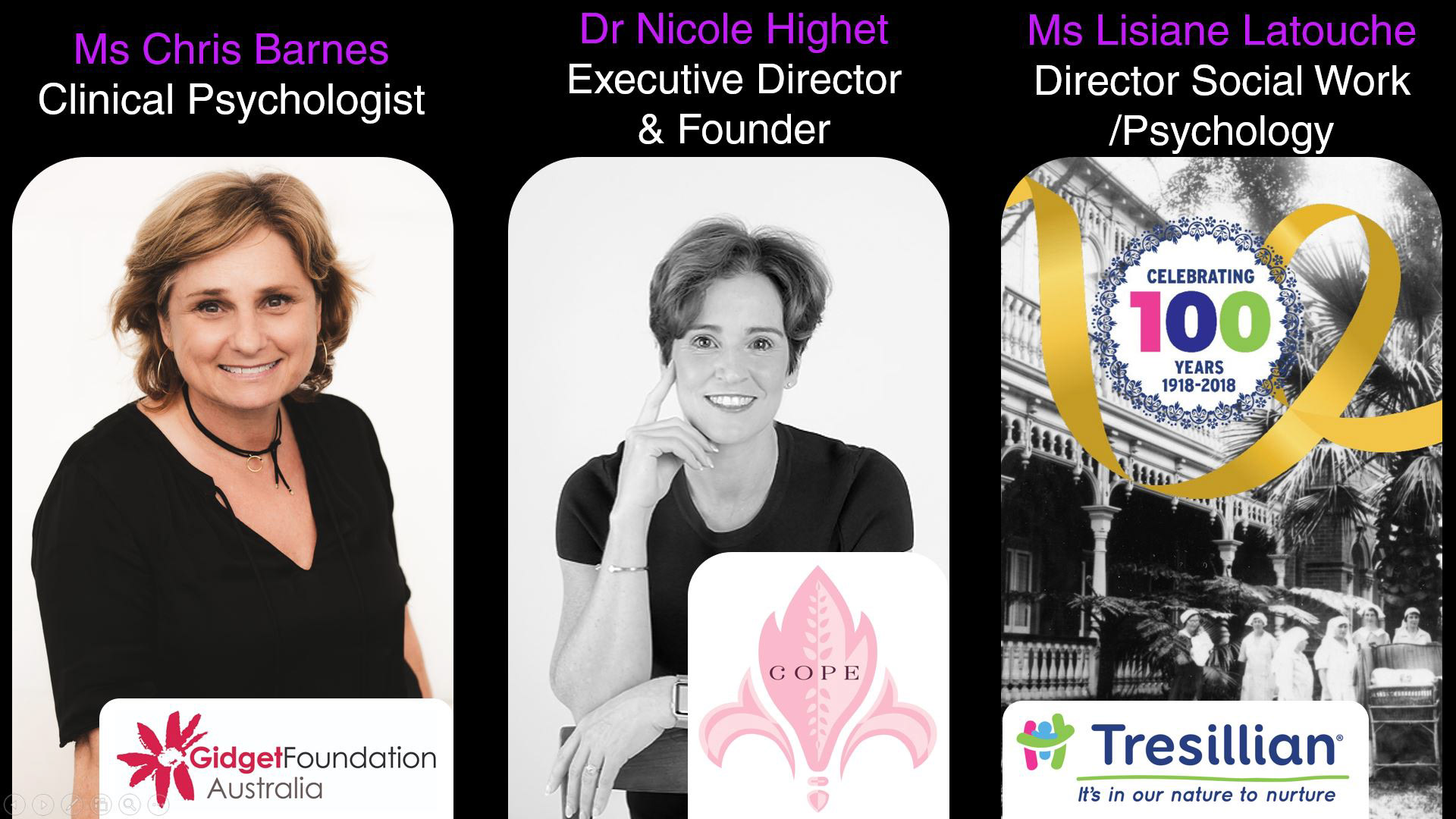 Personas that I created are based strictly on my research findings. The reason to prepare two personas was to show that my design solution is dedicated not only to one "type" of users. A user can be a mother who is an Australian citizen, was born here or lives there for many years or she can be a person who recently moved here. Those mothers can be from various backgrounds, different cultures. They can have a different mental health history and be more or less aware of existing mental health issues.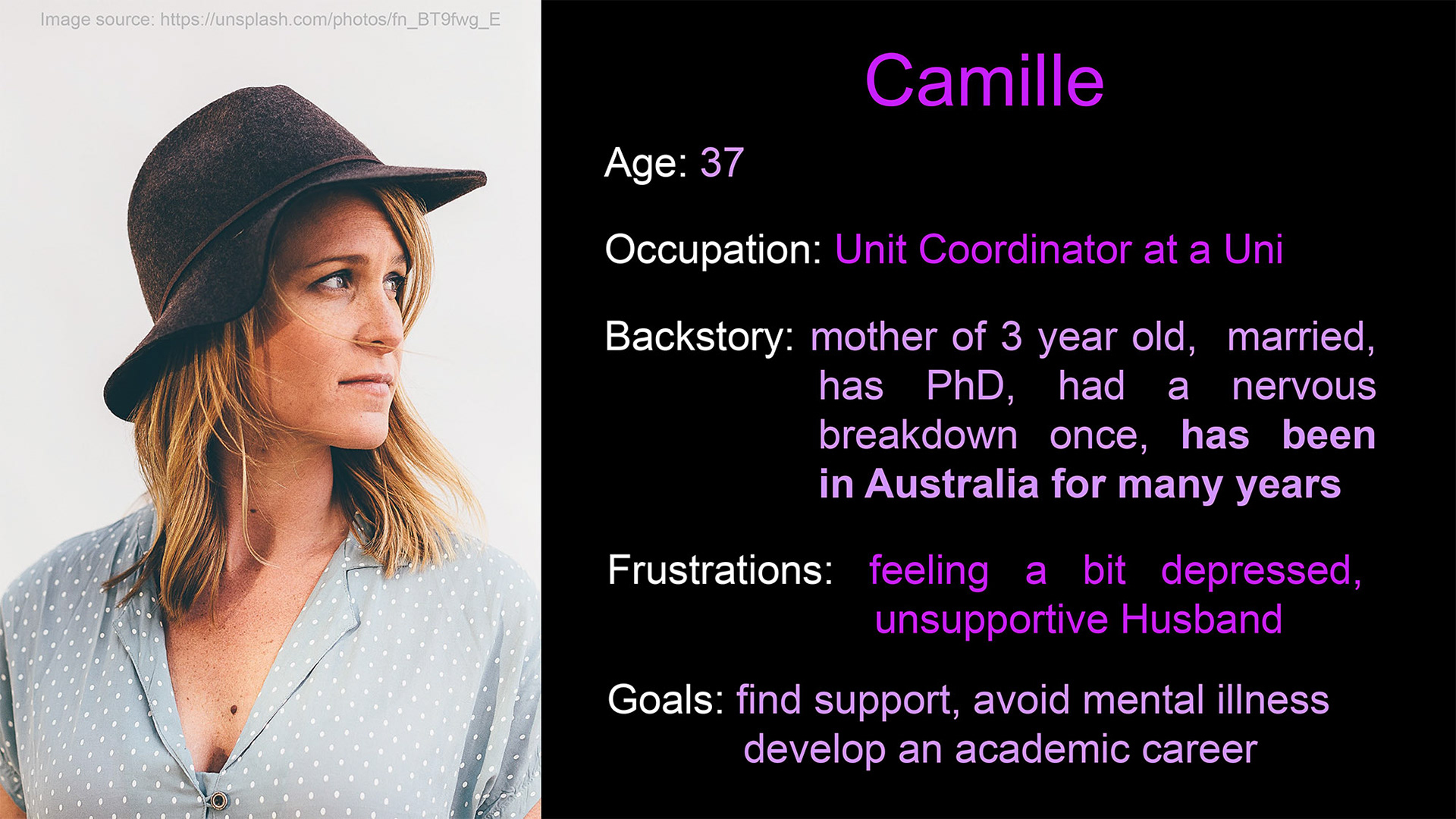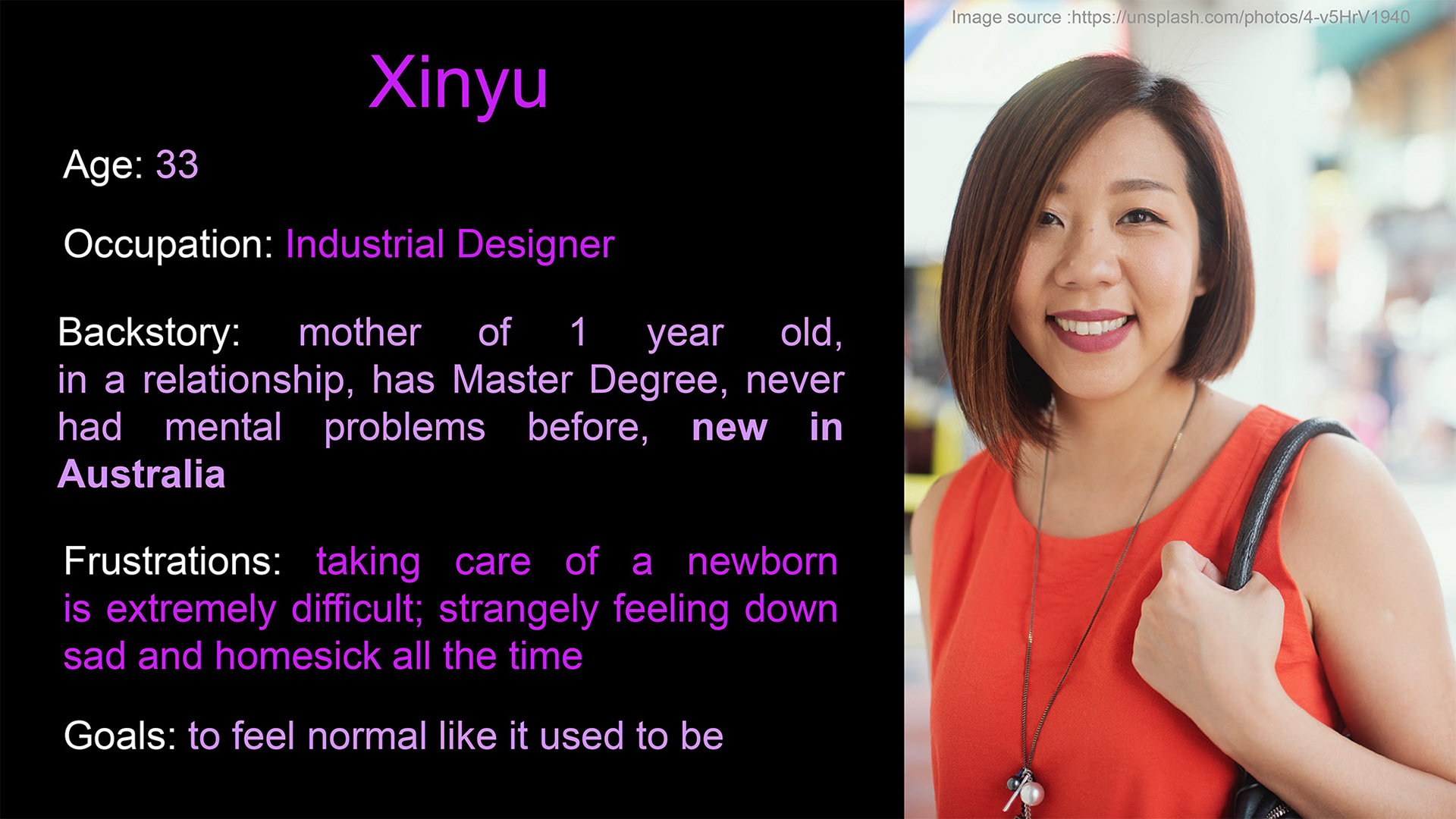 Preparing a competitor analysis was the last part before coming up with two design ideas and preparing a presentation. To do that I started searching at the internet, reading related articles or even asking mothers about apps they are using. Unfortunately, usually Moms do not use dedicated social applications, just more "practical" ones, for instance for running errands, for breastfeeding or for baby naps. There are plenty of applications related to motherhood yet not all of them are my competition. I decided to choose 15-20 most relevant ones and then identify my
 8 top competitors. I selected: the Peanut, Social.Mom, What We Were Thinking, MindMum, PPD ACT, Black Dog Snapshot, The Check-in
and Smiling Mind.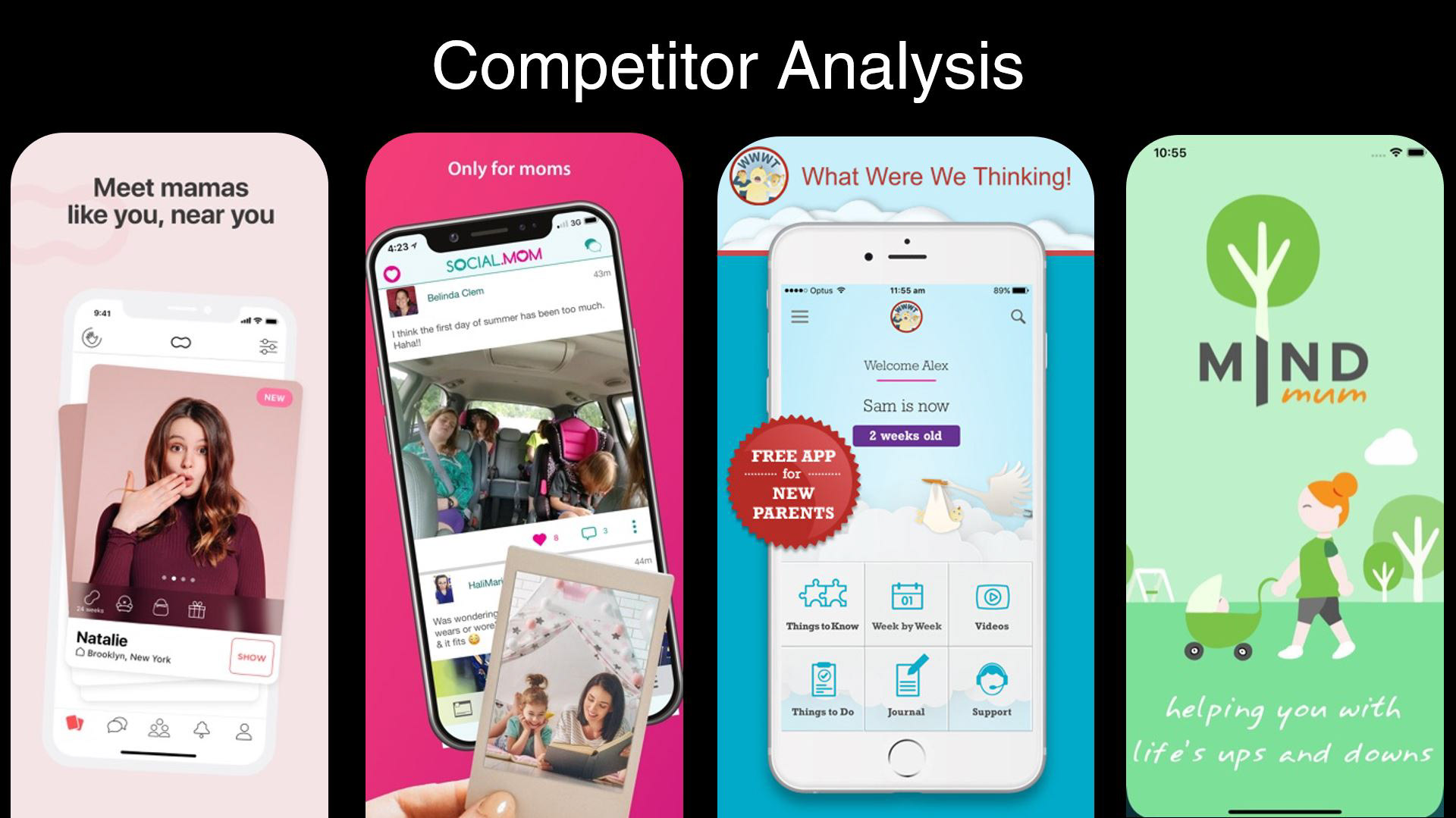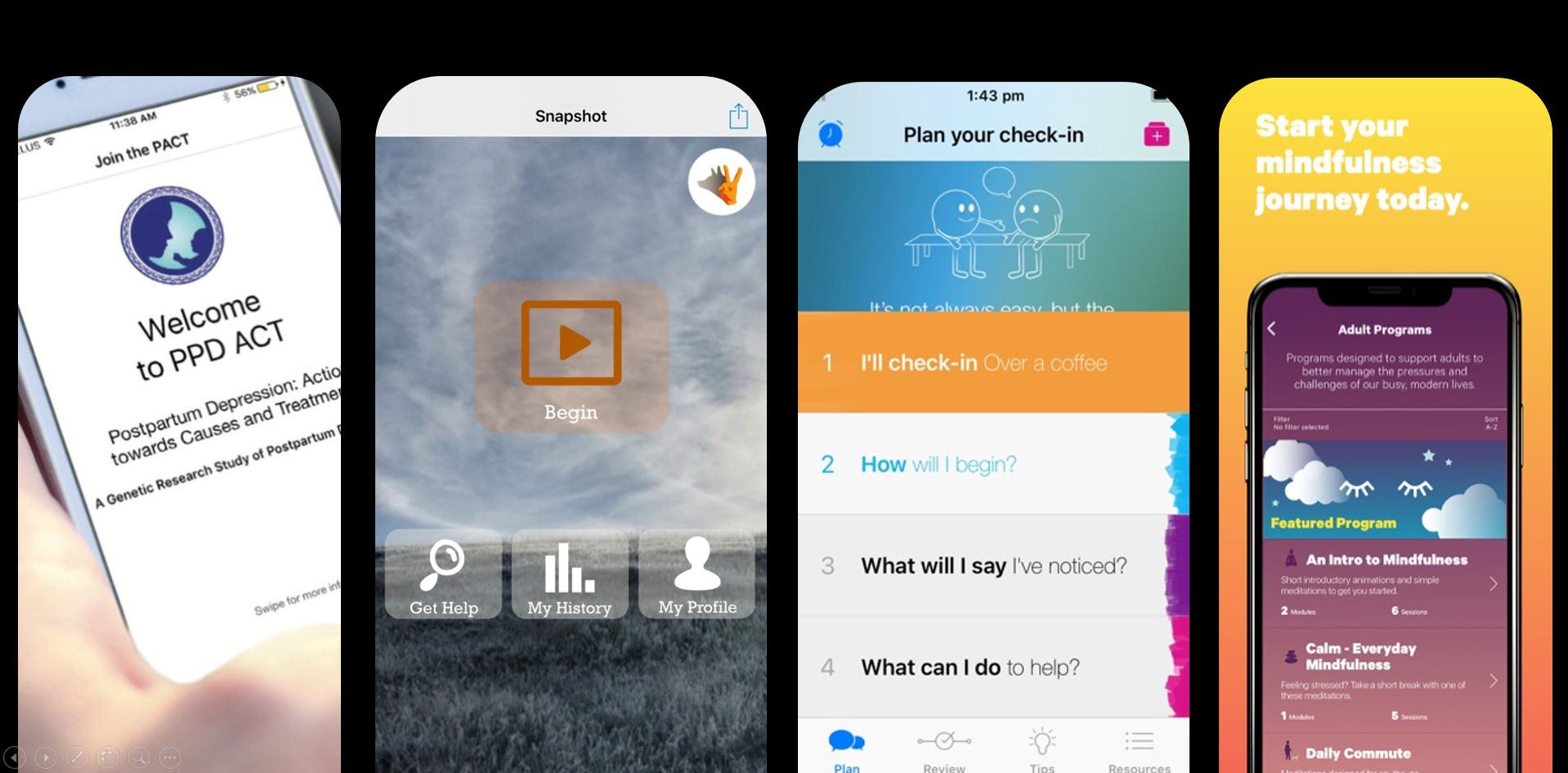 DESIGNING THE APPLICATION
The whole design phase started from summarizing all data during my research and  coming up with two design ideas. First was idea was a social application with network of mothers experiencing similar issues, whilst the second idea was an informative application containing important information and coping strategies.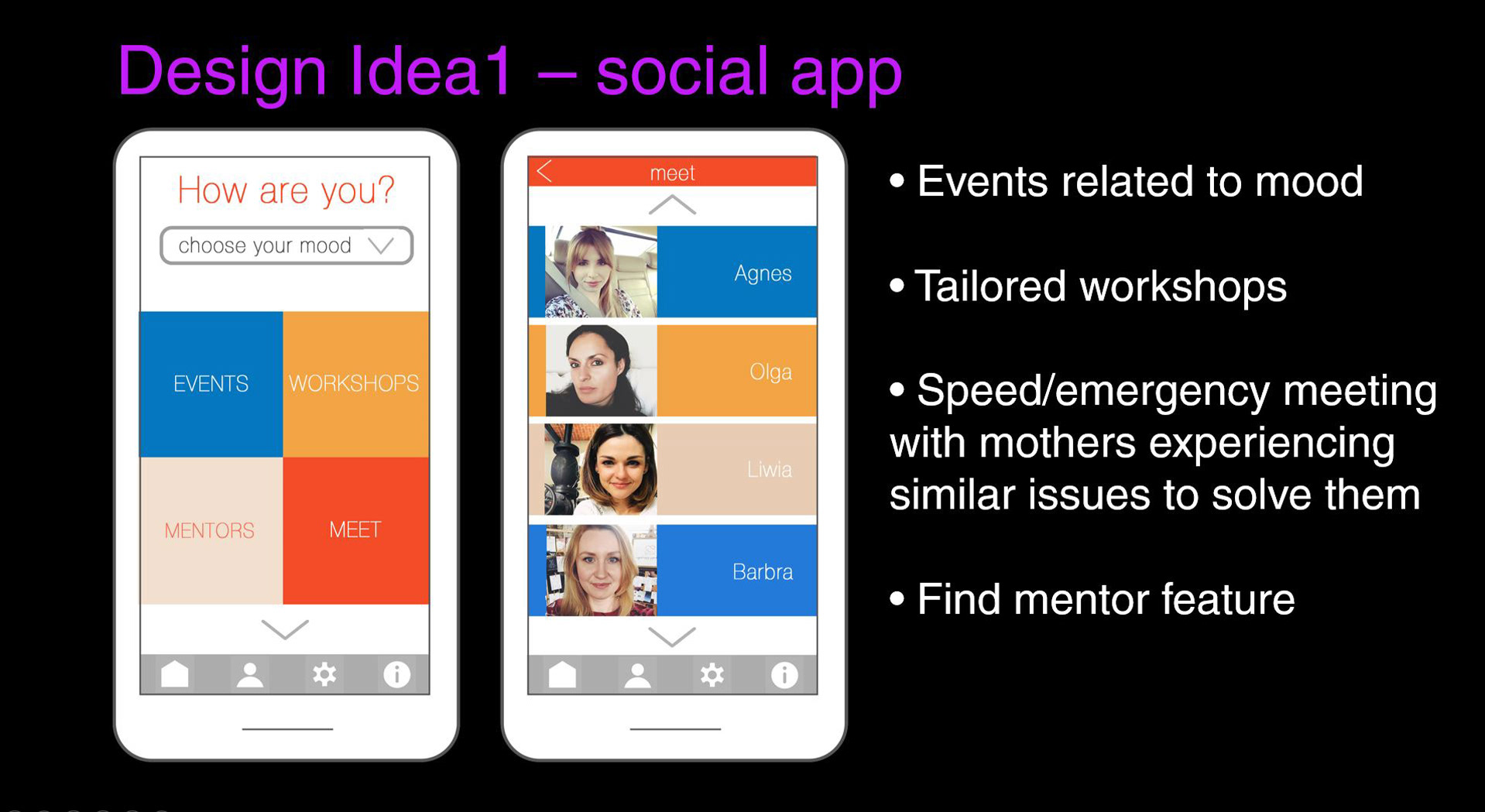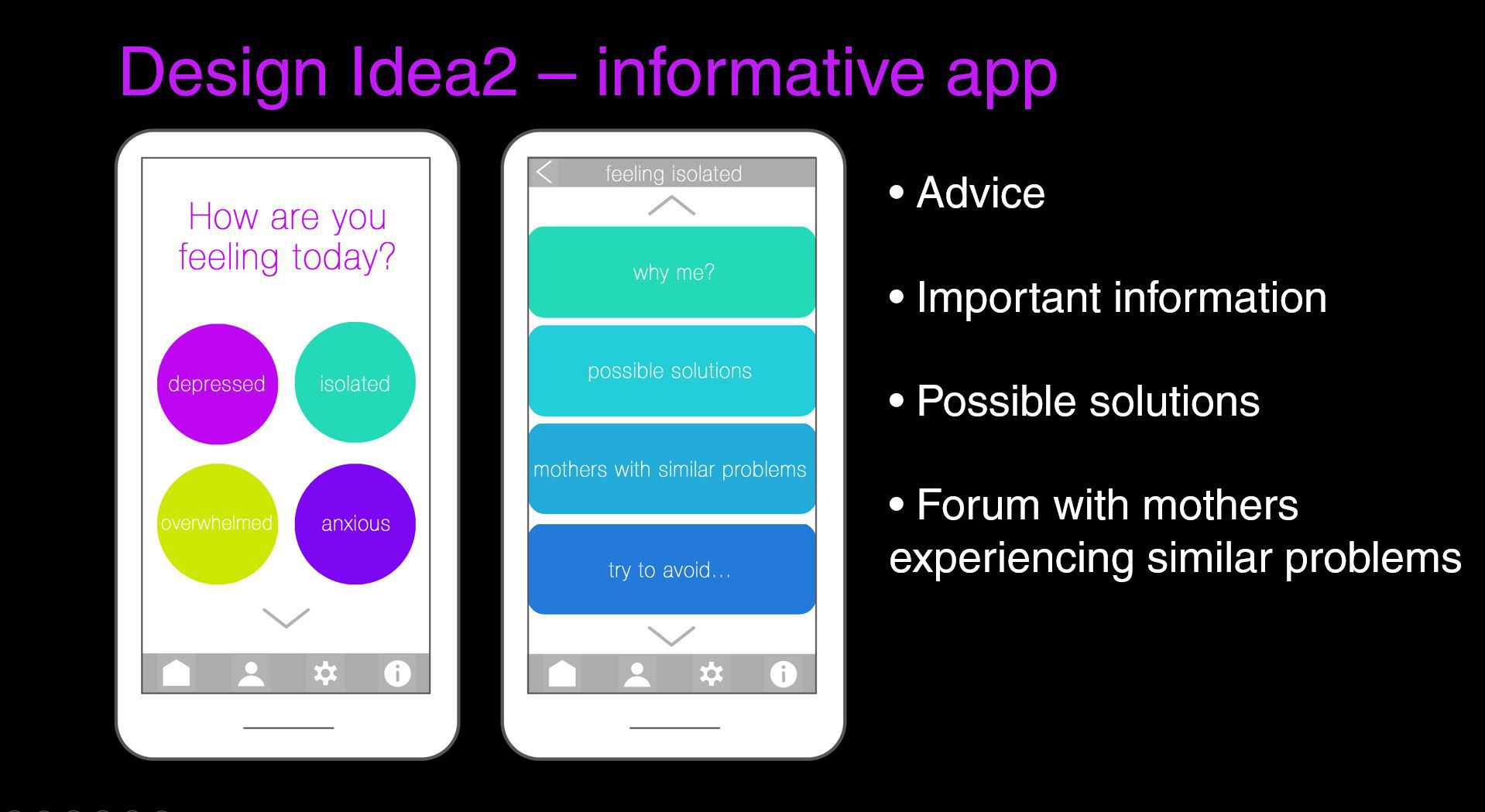 After completing my research, basing what I found out earlier and learned from professional later on - I decided to combine two design ideas into one design solution. Below I attach first sketches of the actual application.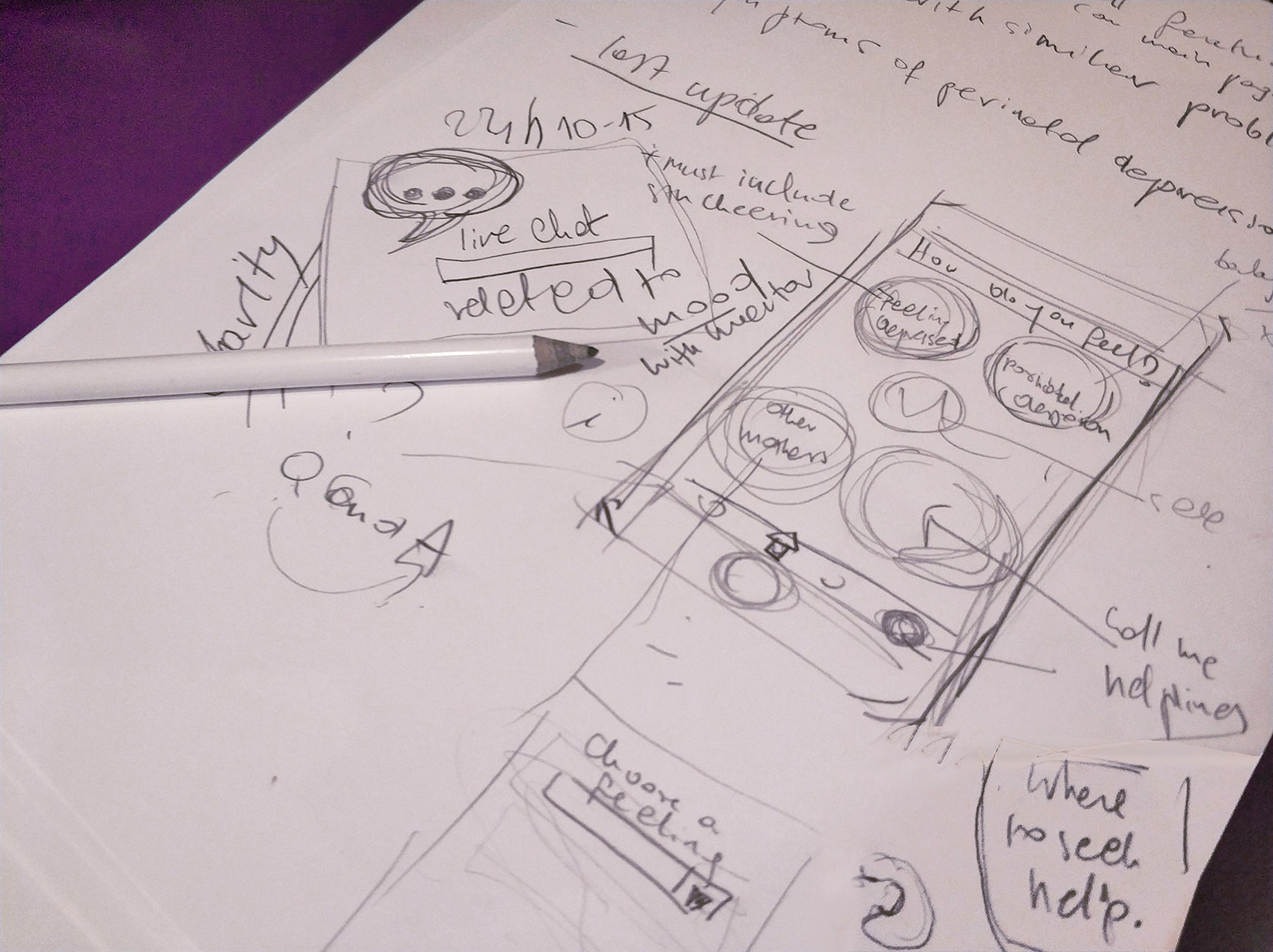 Before I designed working prototype in Adobe XD, I had to create wireframes. From my perspective, it is the most important process among all design phases as I had to decide how my app will actually work. For this purpose, I used Balsamiq Wireframes. Whilst designing I did not meet many problems yet I had some doubts such as: how users should indicate how they feel?  Or, should I add a home icon on every page or maybe it is a better idea to let mothers come back to the home page by just clicking on the logo (or/clicking on a "go back" arrow). Finally, I decided to create a slider for letting Moms to indicate how they feel and to resign from home icon on every page.
Storyboard  with wireframes which presents main features of the WonderMa application
My choice of colors was based of my associations of life transition with a golden hour, which is a time of transition from day to night. In fact,  having a baby is a time of change, transition  into a mother. What is more significant, the selection of colors and overall look of the application is based on users feedback. I asked ten mothers to indicate which version of the home page of the WonderMa they like the most. Four mothers stated that they preferred the yellowish version, and four other mums have chosen deep violet type. Whereas only two women pointed out two lighter versions. I had a problem to find exact combination of colors which will not look "heavy" or pale. It took several days of creating new versions of the same design.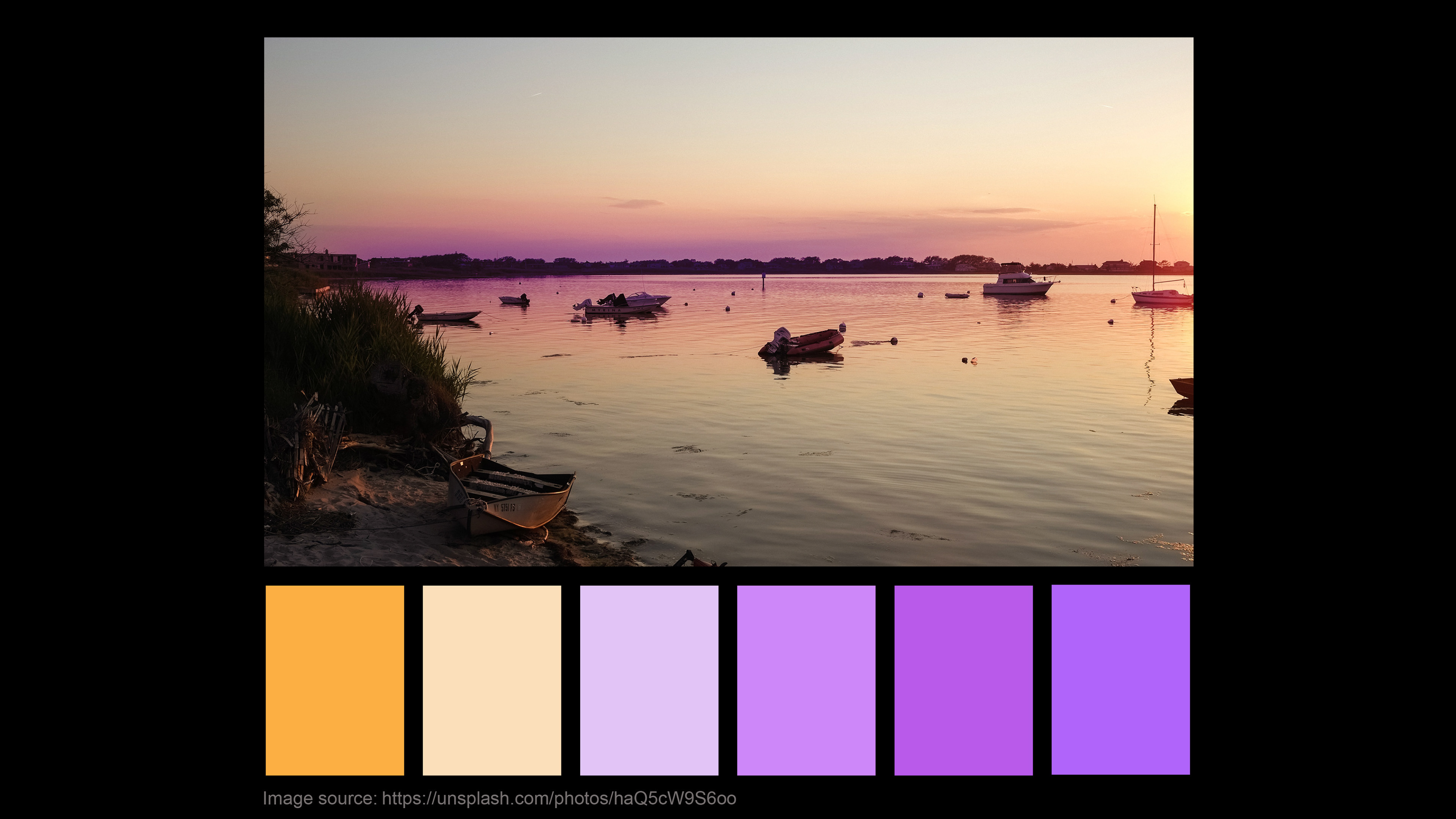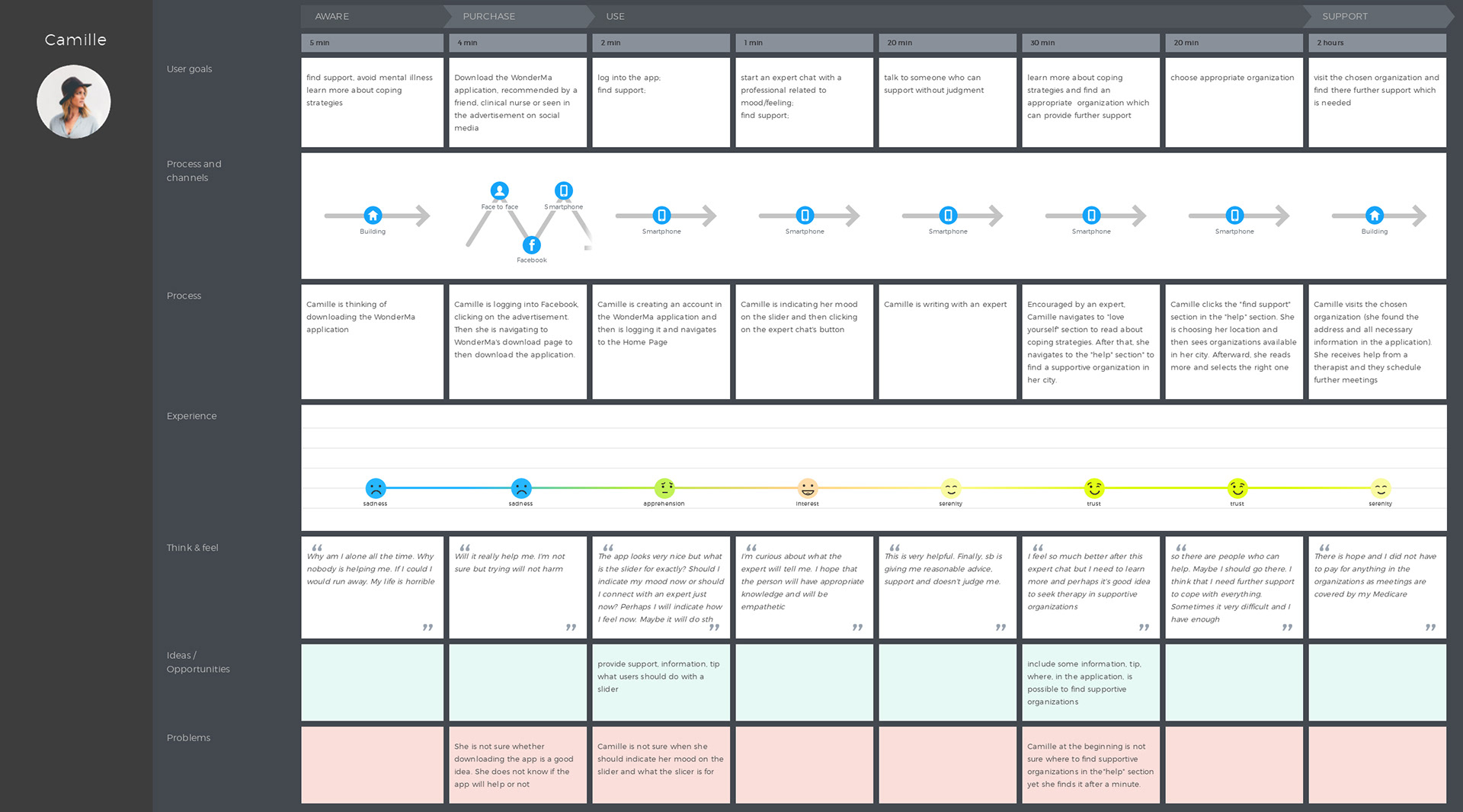 To meet user needs I selected five mothers and three professionals (UX Researcher, UX Designer, Developer) to test my design solution. Mothers were testing the design solution remotely and asked me many questions yet I received only positive feedback. I did not know if they really think that the WonderMa is that great or they just wanted to be nice. Of course, I value positive feedback but negative feedback is crucial for the development and I received it from professionals. Then I implemented it into my project.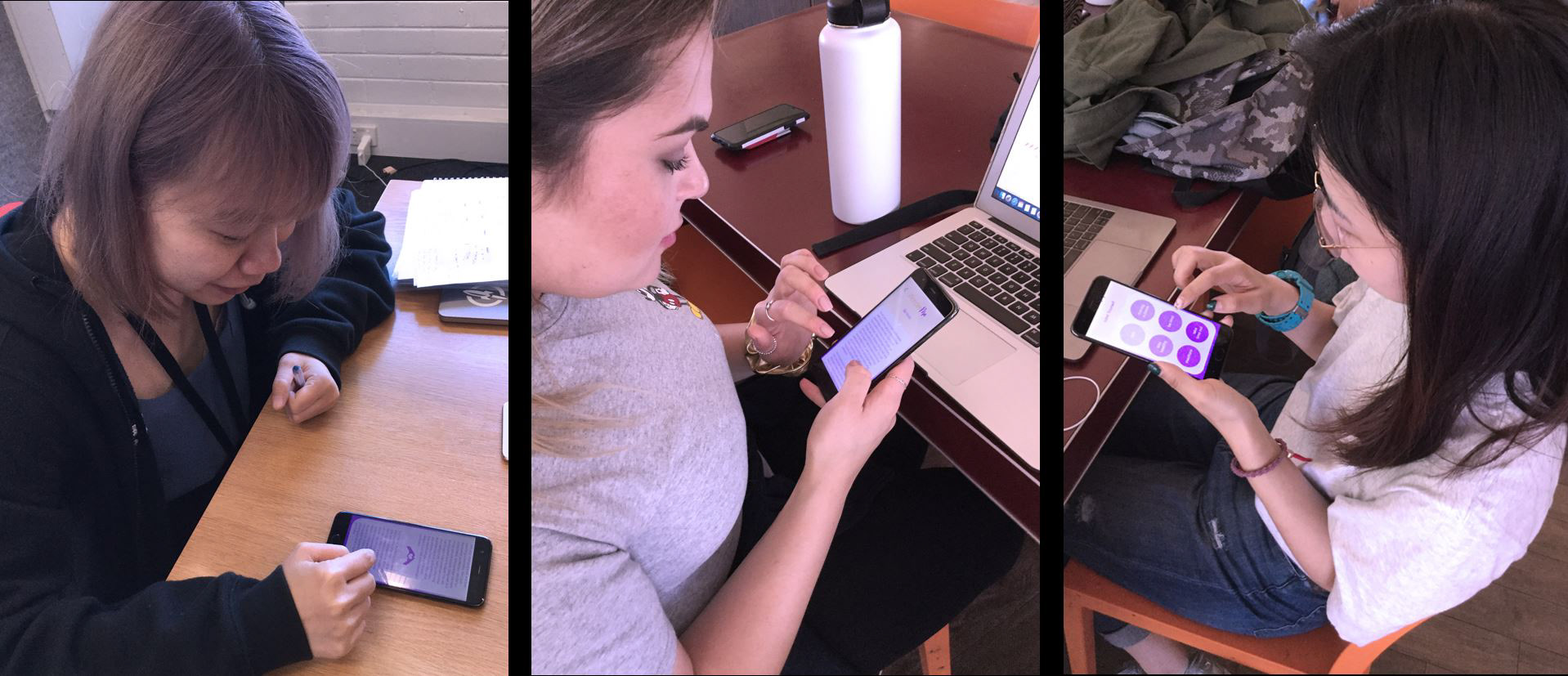 The first remark was about slider on which users have to indicate how they feel to then connect with a proper expert in the expert chat section.
UX professionals stated that mothers may have problems to understand what is it for. Therefore I determined to create an animated inscription
"please, indicate how you feel so we will be able to choose a proper expert". The note appears just after logging in and disappears shortly
after the appearance.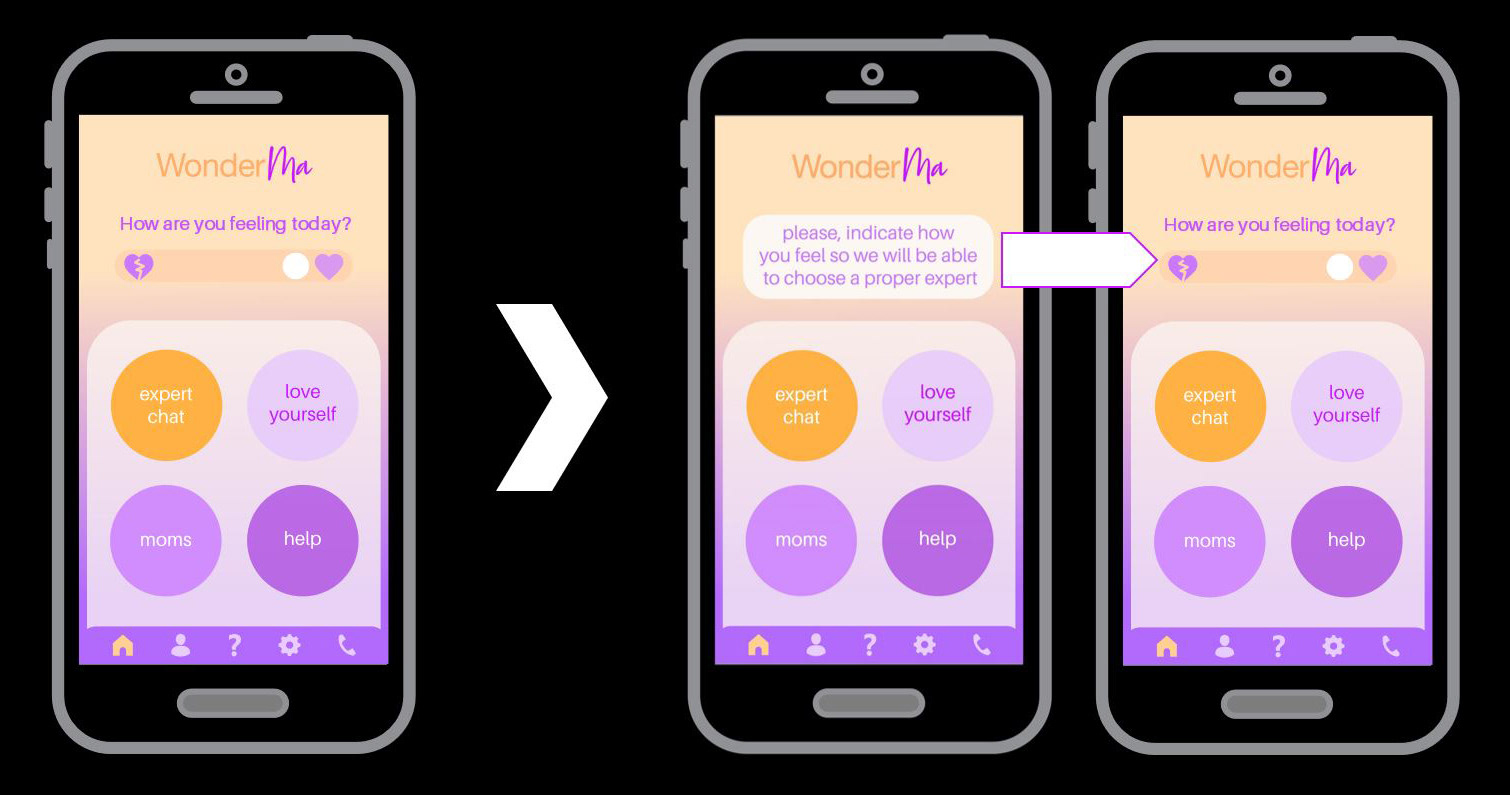 What is more, inserting the "Read more" button under each section with descriptions was necessary to provide users, who are keen to know more, with the ability to navigate to reliable organization's website with more information. I implemented that in both "Love Yourself" and "Help" sections.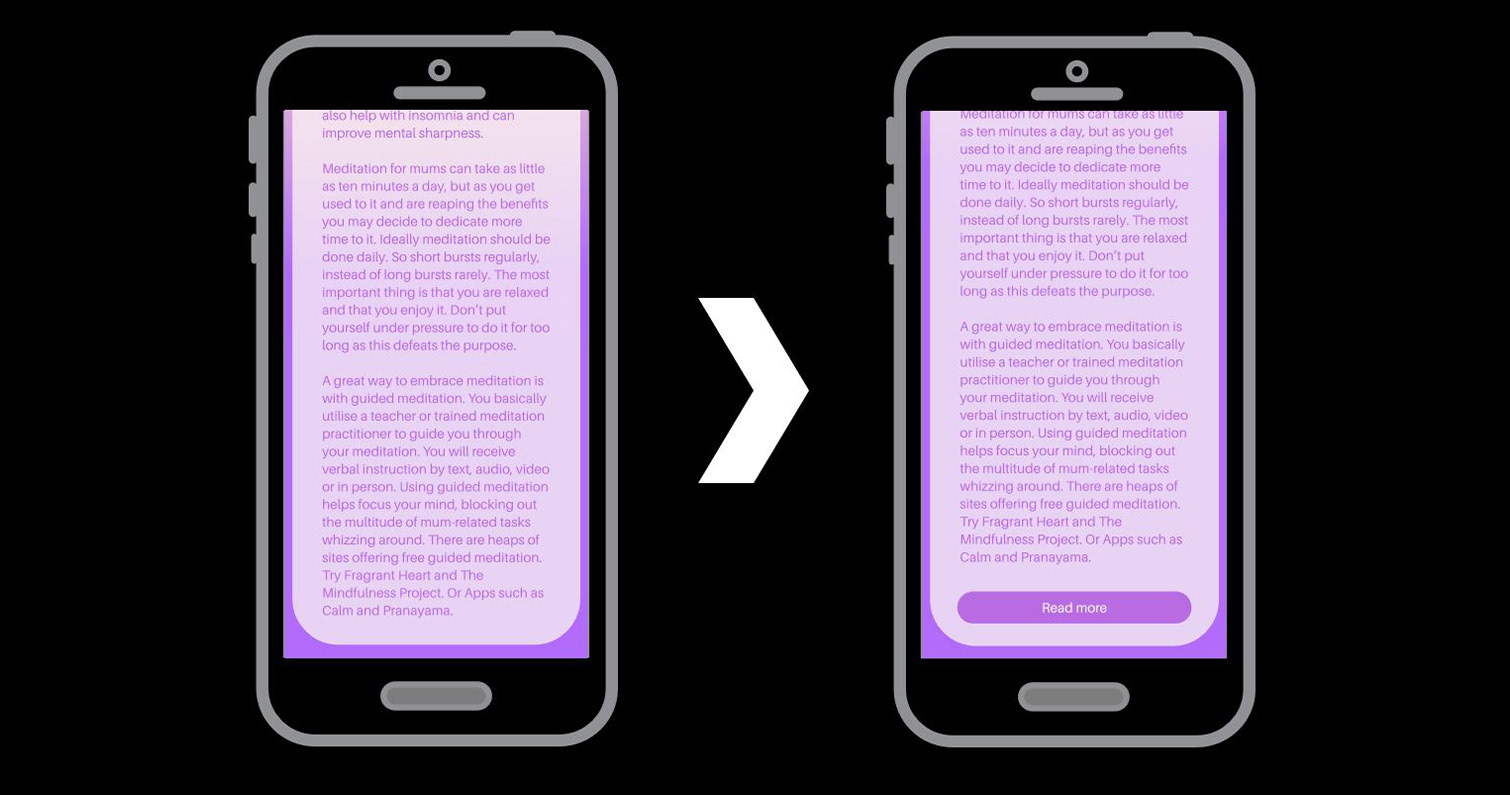 The last improvement was creating "Report" button in Expert's profile. Previously the app contained report feature only in mother's profiles.
I wanted to avoid trolls and make users feel safe yet I have not thought that something can go wrong in the expert chart section. Naturally, even an expert sometimes can say something wrong. One of my priorities is to provide women with comfort and safety whilst exploring WonderMa
therefore I could not ignore this warning.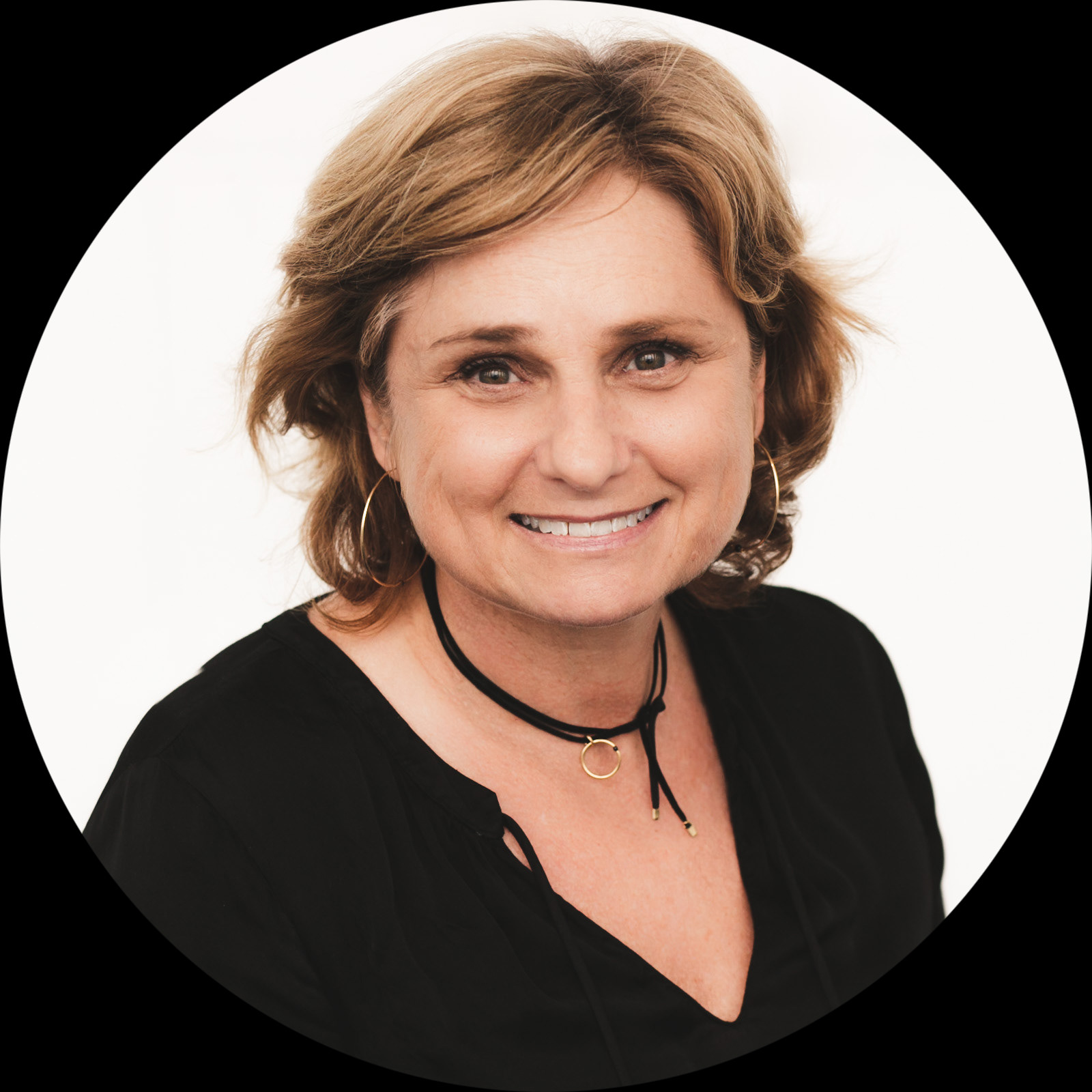 I am also grateful to Ms Chris Barnes Clinical Psychologist at Gidget Foundation Australia who gave me a feedback on my
wireframes and tested my final working prototype. 
The main remark was to change clinical depression (in the help section) to Baby Blues and Postpartum Anxiety. People still mix up Postnatal Depression, Baby Blues and Postpartum Anxiety which are, in fact, very different from one another.​​​​​​​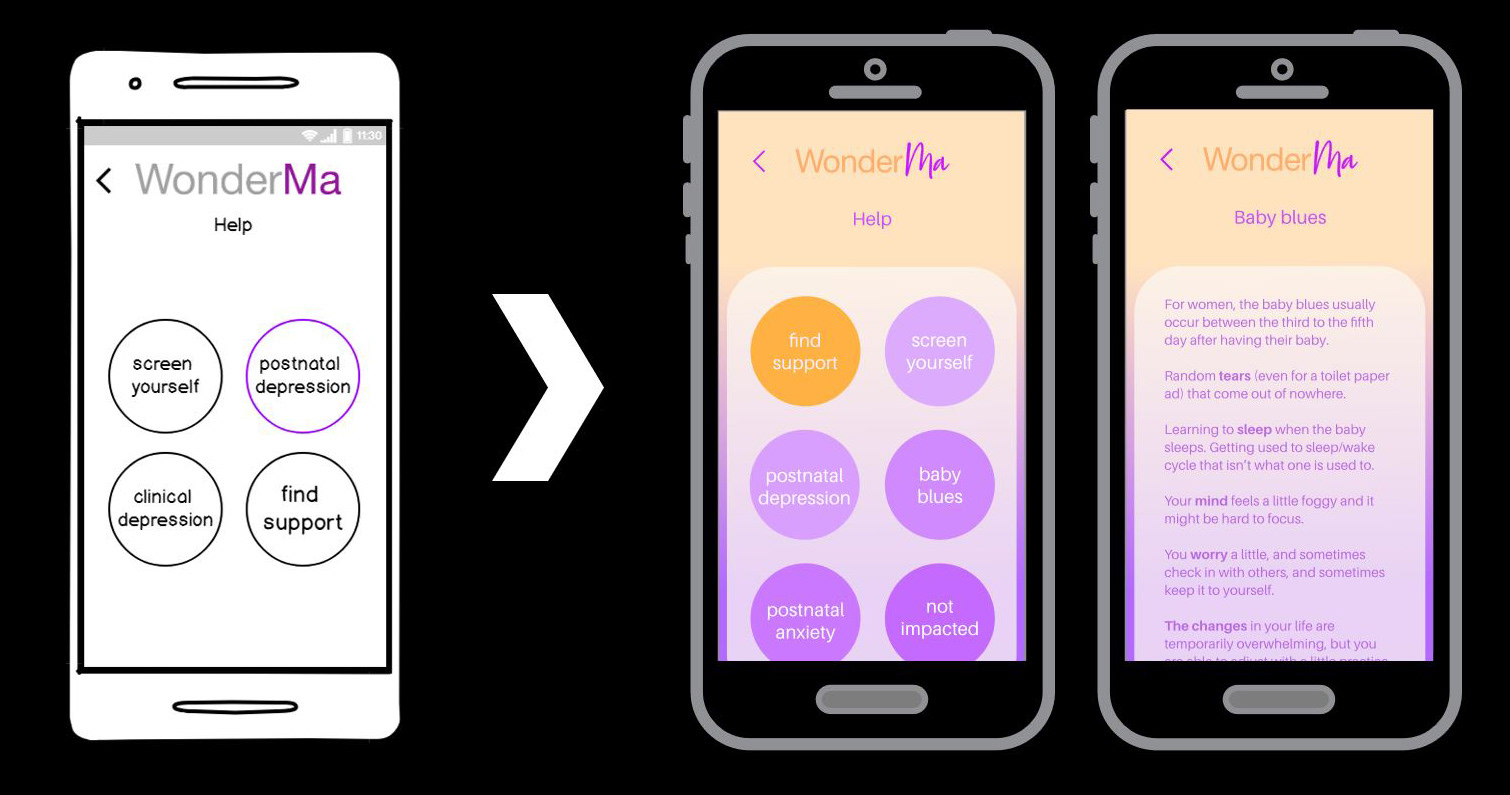 What I also learned from the interview is that I should be very careful with screen yourself option. There are suicidal mothers who should seek professional help. If they would see from application's screening that everything is ok then they might stop looking for help at all. Therefore at the end of the quiz/questions there should be information, for instance: "when you feel very bad always seek professional help outside the app". Moreover, in screening option there should be questions like  "Have you felt like…?" instead of statements.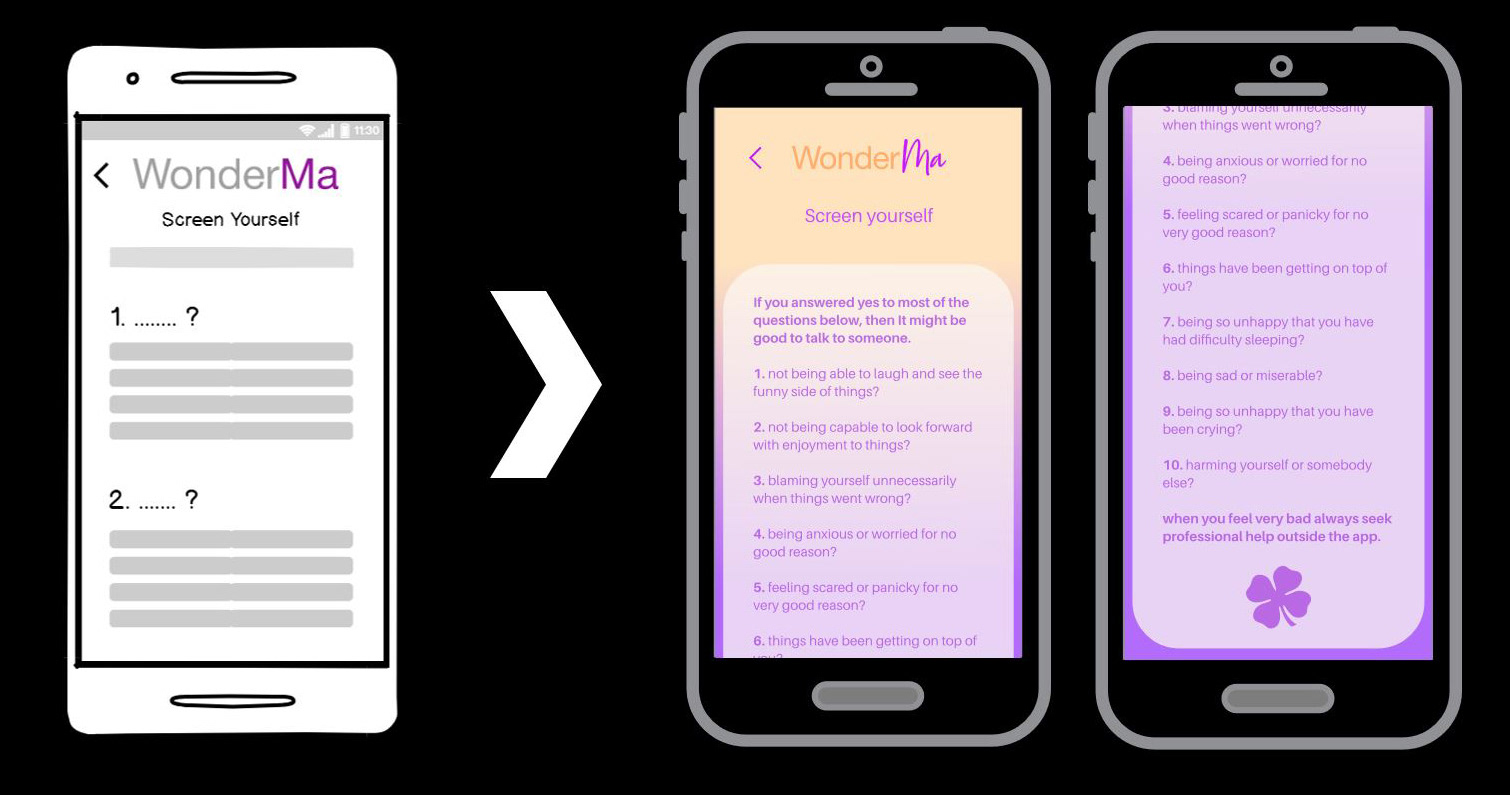 From Chris point of view, the Expert Chat is a great feature, yet I should know that a mother who feels very bad should not wait too long for an expert. I will have to decide how many experts online WonderMa needs and during which hours they will be available: all day, during the night, 24h/7 or maybe from 7pm to 1 am every day? There is a lot to consider.

In my storyboard, which I draw whilst planning my concept pitch video, I showed only a single main character. However, in the end, I decided to demonstrate two main characters, as I showed in the first draft storyboard (combined with wireframes).   Portraying two mothers instead of one lets the spectators see not only deeper scenario yet it refers to my two personas from various cultures. The main aim of my design solution, which is ready for development, is to help all mothers who need support, no matter what background, religion, skin color, etc. Whilst the video was created to persuade spectators to download the application. It could be easily used on the application's website.